International artist and art world celebrity Josée Nadeau recently completed a two week visit to Washington State where she completed 12 new brilliant original paintings. Many of the paintings were based on well known Washington State landmarks including Mount Rainier, the Skagit Valley Tulip Fields, Misty Isle Farms on Vashon Island and the views from Cave B Estate Winery and Resort of the mighty Columbia River.
At the Cave B Resort, Josée experienced the great food and service offered at Tendril's Restaurant, as well as the award-winning wines of the vineyards. Josée painted at different hours of the day, capturing the amazing dancing light on the canyons of the riverfront below, as seen from the Cave B Inn and the Private Villa.
Other works of art on this trip included a stop in Ellensburg to paint a 2-year-old Arabian Colt from the world-renowned Equestrian Horse Breeding Center of Orrion Farms. In this masterful painting, Josée captured the spirit of the young stallion named "Cullinane". She also toured the horse pastures and the grounds of this stately custom built 17,000 sf house, an amazing property in Eastern Washington.
When she wasn't painting, Nadeau attended many Seattle community and private events. Among her favorites was the Northwest Film Forum on May 3rd, where Nadeau presented to actor Tom Skerritt an original work of art painted specifically to honor him for of all the charitable work that Tom has done over the years for military veterans and the film industry.
It was an epic evening, when on May 5th, Josée presented her Washington State Collection at the Realogics Sotheby's International Realty Kirkland Office. This unique collection of works consisted of 6 new original paintings from her visit, and over a dozen early works of art created at the famed Sundance property owned by Robert Redford. Her earlier works presented at the show were mostly exclusive customized giclée prints on canvas. Among them, was a rendition of the Mona Lisa, that Nadeau painted in 2014 for the Bobby Kennedy Jr. fundraiser, the Waterkeeper Alliance Celebrity Gala.
The highlight of this spectacular evening was experiencing Josée painting live to an audience of 75 select attendees at the Private VIP gathering hosted by the Kirkland Realogics Sotheby's International Office. The event was quite an honor for the audience. Nadeau has been recognized for her talent of painting to music for crowds of over 1000, including painting for European royalty as well as celebrity tributes — including Dionne Warwick's 50th year anniversary celebration at the Fontainebleau in Miami.
Just prior to arriving in Washington State, Josée was in West Palm Beach, Florida paying tribute to Nelson Mandela by painting his image, while live on stage, in collaboration with the Footsteps of Peace. This was Josée's 3rd time painting a tribute of Mandela since his passing. The first event, held at Riverside Church in New York City on Mandela's birthday, was covered by CNN where, as the featured visual artist, she displayed her talent by painting live to legendary Opera Singer Simon Estes. High profile attendees in the audience included both United Nation and South African Delegates.
Josée is also world renowned for her famous portrait of the legendary Olympic gold medalist skier, Stein Eriksen. This 8 foot tribute of Stein can be seen in the main lobby of Stein Eriksen Lodge, in Deer Valley, Utah, named the number one ski lodge in the world, two years running.
Nadeau just got accepted by US Immigration as a permanent resident of United States under extraordinary talent in the field of the arts – the highest award given by U.S. Immigration and Government. This places Josée Nadeau at the level alongside of Noble Peace Prize winners, Oscar and Emmy category.
To purchase any of Josée Nadeau's art, please visit JoseeNadeau.com, or for more information, email info@joseenadeau.com.
Please note that there was discussion with the owners of the Cave B Estate, Winery and Resort for Josée to develop an Artist Workshop, possibly later this summer at the Cave B Estate. Should this come together, we'll let everyone know.
Josée's next event is working with Alison Eastwood and Frances Fisher for the 2nd Annual Art for Animals Fundraiser taking place in Los Angeles on June 4th. Details to available here.
Josée Nadeau's trip, schedule and accommodations were sponsored by Brad Vancour, Founding Member of Realogics Sotheby's International Realty Kirkland Office.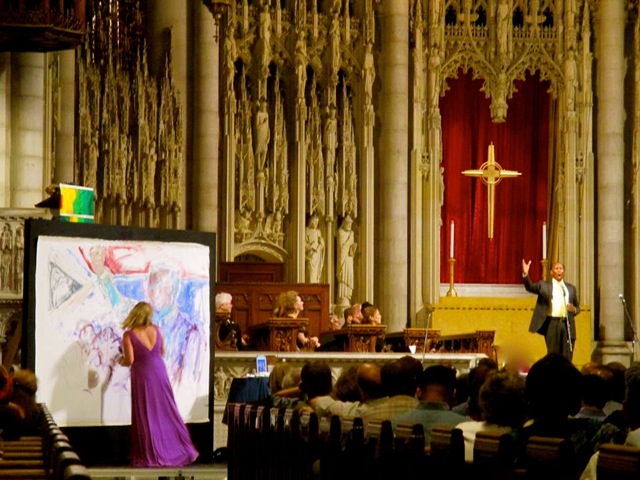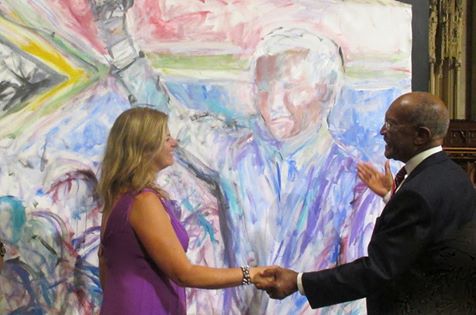 Nadeau's history in the art world begins in the Giverny region of Europe, 40 minutes north of Paris. She spent ten years as a private guest of European art expert Gerald Van der Kemp and his wife, Florence, living in a private studio on the grounds of Claude Monet's garden.
Nadeau was, and is, the protégé of Gerald Van der Kemp. Van der Kemp is the esteemed French art expert who saved the Mona Lisa from destruction during the Nazis occupation of France during WW2, and also later masterminded the restoration of the Louis XIV's Palace de Versailles. Van der Kemp was taken by Nadeau's Impressionistic style, and he stated that "Josée had 'incredible talent'; and if she had been born in the past century, Nadeau would have been right beside Monet, Mary Cassatt, Bonnard and Vuillard."